Tamang Heritage trek
One of the newly opened trekking regions of Nepal is Tamang heritages trekking region. This trekking will offers us the great opportunity to visit around the beautiful region of Langtang region. We can explore around the beautiful Tamang village of Langtang region during this trekking. Besides the local villages and cultural regions, we can also visit around the beautiful meadows and grazing lands of the trekking regions. While making our trekking through this beautiful trekking trail, we will visit around the beautiful monasteries of the regions. The amazing view of the Langtang Lirung (7245m.), Dorje Lakpa (6989m.), Langtang Kerung, Chumse Danda ridge (5122m.), Jugal Himal, Ganesh Himal, Paldor Peak, Manaslu Mountains and Shringi Himal are some of the mountains that we can see during our dazzling trek. Similarly, Gosainkunda, Parvatikunda, Bhairavkunda and Dhudhkunda are some of the beautiful lakes which are visible during this marvelous trek. Besides every beautiful view of the surrounding, we will be pleased with the hospitable and loyal behavior of the Tamang people of the surrounding. Their lifestyles and culture are some of the major attraction of the trekking at the Tamang village of the Langtang region.
During the Tamang heritage trekking, the trekkers will experience of adventure at the high lands of the region along with the explore able culture of the Tamang people living at the region. During the month of March April, we will be offered with the glittering view of the beautiful forest of rhododendron whole around the forest. Most of the trekking route goes through the forest of the rhododendron. Due to less influence or presence of tourist at these places, the Tamang heritages and culture are untouched and unchanged. There are not influenced by the culture of the foreigners or trekkers. Thus, the untouched culture and lifestyle of local people will surely mesmerizes us during the trekking.
Trip Map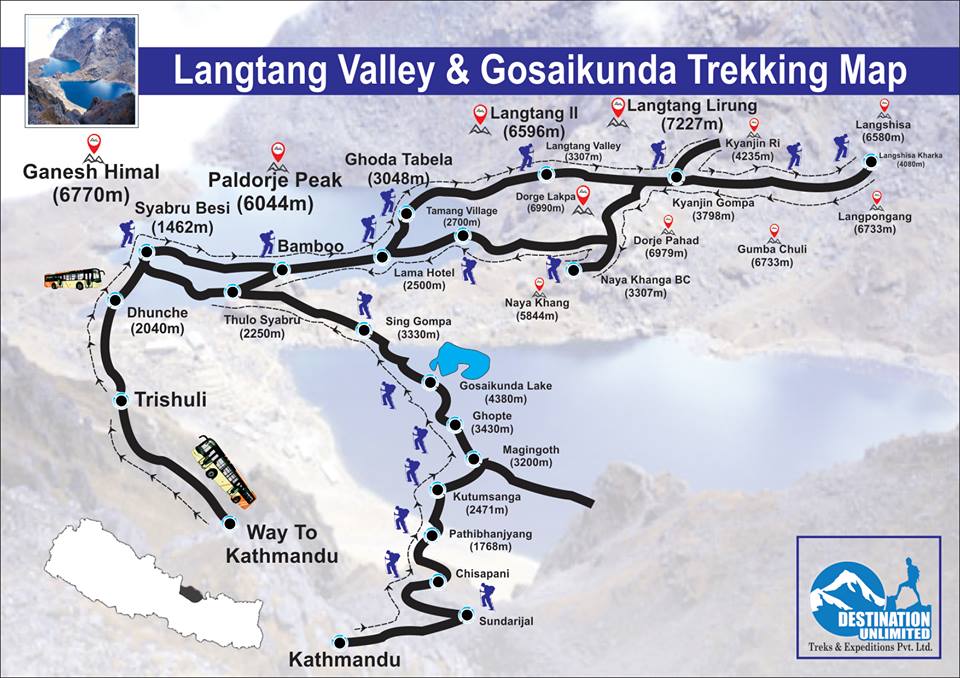 Quick Enquiry