Tamang Heritage trek
Tamang Heritage Trek is a community-based trek between Ganesh Himal and Langtang range. It is a trek to find the natural beauty of the Himalayas and the ethnic culture of Tamang villages in Langtang. It is the newly discovered trail in Nepalese Trekking. The trek in the lap of Himalaya's view with the local culture will provide you with life the memories. Trekking with the towering peaks, forest with red rhododendrons, suspicious bridge and snow leopard sighting is what you get in this trek.
Tamang Heritage trail lies in a restricted area previously and was opened up to visitors lately. Tamang people in this trail are culturally closer to Tibetan culture, that's because it touches the border of Tibet in the north. Tamang is an ethnic group of Nepal, hugely settled on the lap of Langtang range, migrated from Burma via Tibet during the 7th/8th centuries.

You can experience the off beaten track in a recently developed route with the majestic mountain views. On the second day of trekking, you can release the tiredness in the natural hot spring at Tatopani. It is believed that taking a dip in these natural hot springs can cure your pain and aches.
The heartwarming hospitality of people in Tamang villages with their colorful dresses, sceneries of ancient monasteries and prosperous wood engravings in the house makes the trip precious.
The region offers the beautiful landscape of alpine terrain, flat meadows and rhododendron forest (chief vegetation). The region also provides the opportunity to see different flora and fauna. Endangered animals such as red pandas, black bears, musk deer, and leopards. It also exhibits various species of vegetation, birds, and butterflies.
The trek takes you through Tatopani, Rasuwa, Thulo Syabru, and many other Tamang villages.

Best time for Tamang Heritage Trek
Autumn (September to Mid December) is the best time to trek in the Tamang Heritage. If you trek in this season, you will get warm weather with clear blue sky, breath fresh air, and clear mountain views. However, you can take a trip in the spring season also.

Accommodation During Tamang Heritage Trek
Tamang Heritage Trek wouldn't disappoint you with accommodation. If you want to know the lifestyle and culture of local people you can stay in a homestay and if you want luxury you can find western-style hotels too. Each homestay and hotel offers a private room with basic facilities. You can also take a hot bucket shower if you choose by paying an extra sum. Every hotel and homestay here is comfortable and safe. The numerous villages along the trail offer a place to stop for lunch and short rest.
Trekking in the Tamang Heritage trail is a moderate level. However, there are some steep uphill and downhill. The appropriate dress and hiking boots help to boost your energy.
Overall, trekking in Tamang Heritage is a package of amazing nature, mixed culture of Tamang and Tibetian, challenge and warm welcome of locals. I can assure you won't regret this trek. The trek is best for adventure seekers as well as the one who need refreshments in their busy life.
Trip Highlights of Tamang Heritage trek
Chance to get insights about the Authentic Tamang Culture and lifestyle Tamang community of Langtang
Authentic Buddhist Monasteries and Gumbas on the trekking trail
True lifestyle and ethnic culture of Tamang people
100 years old monastery,
Forest filled with beautiful Rhododendrons,
Panoramic view of Ganesh Himal, Langtang Ri, Shisapangma and Kerung peaks,
Chilime Hydropower and hot natural springs

Outline Itinerary:
Day 01:

Arrival in Kathmandu Airport.

Day 02:

Drive from Kathmandu to Sybrubensi 1503m (7-8 hours)

Day 03:

Sybrubensi trek to Gatlang 2238m (5 hrs)

Day 04:

Gatlang trek to Tatopani 2607m (6-7 hrs)

Day 05:

Tatopani trek to Thuman 2338m (6 hrs)

Day 06:

Thuman trek to Briddhim 2229m (6 hrs)

Day 07:

Briddim to Sybrubensi. 4-5 hours

Day 08:

Drive back to Kathmandu (6-7 hours)

Day 09:

Transfer to Airport. Final Departure
Detail Itinerary
Day 01 :

Arrival in Kathmandu Airport. You may arrive at Kathmandu at any time. Upon landing at the airport, you will be escorted to your Hotel in the city. Overnight stay at the Hotel.


Day 02 :

Drive from Kathmandu to Sybrubensi 1503m (7-8 hours) You will have a drive from Kathmandu to Sybrubensi today. Heading north out of the city, you will be driving through scenic foothills. The drive also passes by high ridgelines and presents sights of the countryside life of Nepal. Passing through Dhunche, you will reach Sybrubensi. Along the way at the bank of the Trishuli River, you can get amazing glimpses of the Ganesh Himal (7422m). Overnight at guesthouse.


Day 03 :

Sybrubensi trek to Gatlang 2238m (5 hrs) From Sybrubensi, you will trek through the hill and towards Gatlang, passing by many small settlements along the way where you can observe different traditional village life of the locals. The village of Gatlang is set high on a hillside among terraced fields. Upon reaching Gatlang, you can visit a Tamang monastery here as well as the beautiful the Parvati Kunda Lake. Overnight at guesthouse.


Day 04 :

Gatlang trek to Tatopani 2607m (6-7 hrs) On the way to Tatopani, you can enjoy mesmerizing sights of the Langtang range and the Ganesh Himal (7422m). You will follow the trail running along the Chilime Khola. The Tamang culture at Tatopani, which translates to "hot water", is quite beautiful. The village of Tatopani has natural hot springs that are known to relieve aching muscles. Overnight at guesthouse.



Day 05 :

Tatopani trek to Thuman 2338m (6 hrs) From Tatopani, you will then have a beautiful trek along the verdant woods of the valley towards Thuamn via Timure- an old trade route settlement to Tibet. At Timure, you will also pass a fort that is a historical reminder of the Nepal-Tibetan relations that has existed for many centuries. Overnight at guesthouse.


Day 06 :

Thuman trek to Briddhim 2229m (6 hrs) From Thuman, you will trek along the valley's edge line all the way to Briddhim- a Tibetan Buddhist village situated on the lap of the Langtang Himal. Here, the houses of the village are spread in a Z-shape across the land with most of the houses made up of stones with split slates for the roof. The village's people are direct descendants of the ancient Tibetan immigrants. Overnight at guesthouse.


Day 07 :

Briddim to Sybrubensi. 4-5 hours After breakfast slowly trek down hill to Sybrubensi. Last day of the Trekking, Enjoy beautiful evening in Sybrubensi. Over night at Guesthouse.

Day 08 :

Drive back to Kathmandu (6-7 hours) After breakfast, you will drive back to Kathmandu, passing the ethnic Tamang villages and the terrace farms, driving alongside the river. You can explore the local marketplaces and alleys upon your arrival in Kathmandu. Also, you can do shopping or rest as you desire. Overnight in Kathmandu.


Day 09 :

Transfer to Airport. Final Departure Approximately three hours before your scheduled flight, you will be transferred back to the airport from where you will depart.


Cost Includes
Airport pick-up and drop-off
Kathmandu to Sybrubensi and back to Kathmandu with Local bus or Jeep
Standard Hotel with breakfast in Kathmandu and Nagarkot 2-3 star
Langtang National Park fee / Tims Permit Card
Trekking Accommodation, Twin Sharing in Basic Tea-house lodge
Licensed English-speaking guide, Experience knows about First Aid
Two trekkers 1 porter
Three Meals a day ( Breakfast, Lunch & Dinner)
All necessary documents and permits for trekking
Farewell Dinner.
Sleeping bags( End of Trekking need to return) Duffel Bag for carrying.
Trekking poles if requested
Staff insurance, medication and equipment
All Govt. and Local Taxes
Trekking Certificate by Destination Unlimited
Cost Excludes
International airfares
Travel/trekking insurance
Nepal entry visa fees
Mountain rescue charges or insurance
Drinks hot and cold
Bottled drinks on trek (cold and alcoholic)
Lunches and dinners when not trekking
Additional food or drink on trek in addition to three standard meals
Personal expenses, Emergency Expenses, road blocked, snakes, desert.etc
Tiping recommended
Trip Map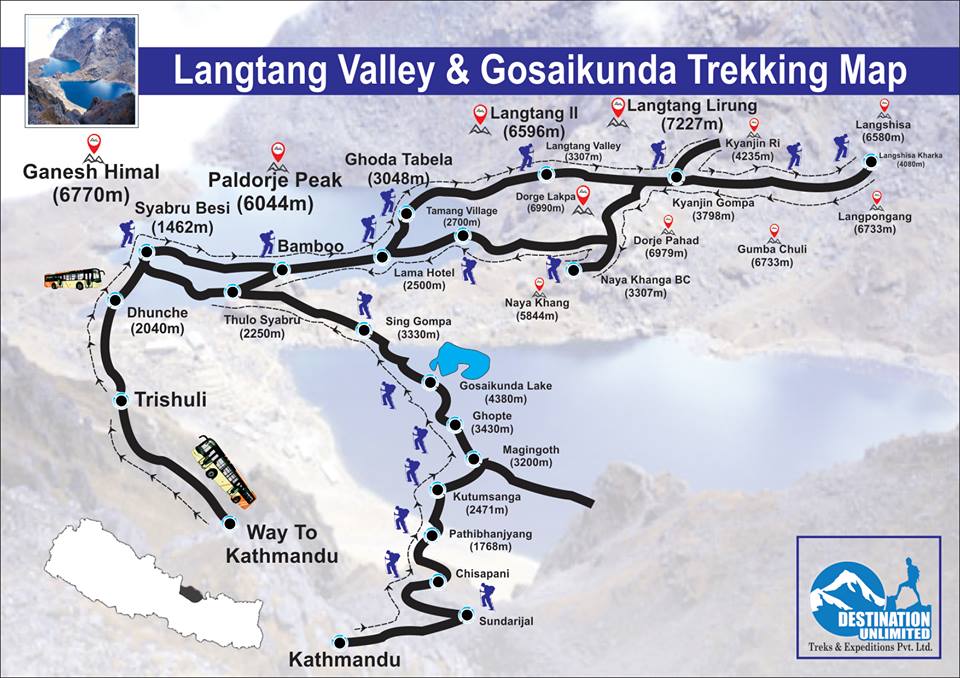 Quick Enquiry